About Us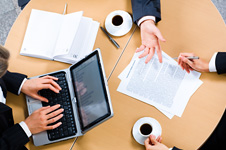 The technicians at SmartHands Technology have been providing quality data network services to its many satisfied customers since 1992.
Both our cabling and network services divisions have joined forces with industry leaders such as Hubell Premise Wiring, Molex, & Hitachi Cable Manchester to become certified manufacturer resellers and service providers. Each of these partnerships has allowed us to provide each customer with security, quality work, and reliability through certified network installations and multi-year assurance warranties. Our mission is to offer complete turnkey service solutions for our customers.
Our experience, customer service, and quality of work, is what sets us apart from the competition. SmartHands Technology prides itself on meeting deadlines and exceeding our customer's performance expectations.
Our Philosophy
SmartHands Technology was started with the philosophy and goal of providing quality service backed by experience and knowledge of the industry. This was accomplished by SmartHands Technology surrounding itself with quality management, knowledgeable field technicians and sales staff possessing skilled capabilities in specific areas of service. This philosophy continues its theme throughout all of SmartHands Technology's employees and team members.